Intelligent solutions balancing Cognitive strength of human mind and computing power of Machine.
Cadsys' conflation solution combines automation and cognitive power of human mind.
Our proprietary fuzzy logic based conflation algorithms have enabled us to achieve a high degree of re-alignment accuracy for most of the spatial data. In cases where a manual re-alignment has to be performed, Cadsys uses software assisted re-alignment process. This process is effectively controlled using established management systems that have evolved at Cadsys's production facilities. The advent of these systems is attributable primarily to the rich experience gained by Cadsys, through its diverse operations of preceding two decades.
Concord-Pro Features:
Concord-Pro is an out of the box solution, with ability to configure as per user requirements, and finding its usage in diverse avenues. These are inclusive of graphic re-alignment of land base and facilities, Data cleanup of GIS records, Data migration and performance management, amongst others. Some of the features of Concord-Pro include: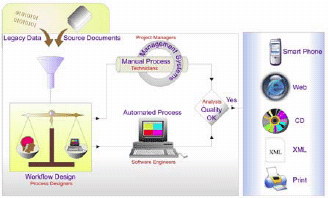 Platform independent architecture
Fuzzy logic based decision support system
Supports polygon, linear and Data point conflation
Existing data integrity accurately maintained
Supports multiple control sources
Built-in Quality Control features
Extensive reporting capabilities to meet both operational and regulatory needs.
Concord-Pro has variety of applications meeting the needs of diverse sectors. Some of the areas we serve include:
Gas Utilities (Transmission and Distribution)
Telecommunications
Electrical
Land Management
Water and Sewage Distribution